TortoiseSVN
Bugnet Explorer Suite 2 can be integrated in TortoiseSVN oder TortoiseGIT. This allows you to choose and link tickets for ckeck-in of source codes.
The integration of Bugnet Explorer Suite to TortoiseGIT is identical with TortoiseSVN.
How to integrate your project to TortoiseSVN.
 Open the "Settings" dialogue in TortoiseSVN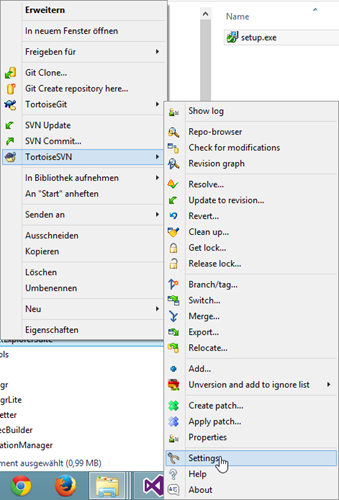 Switch to "Issue Tracking Integration" settings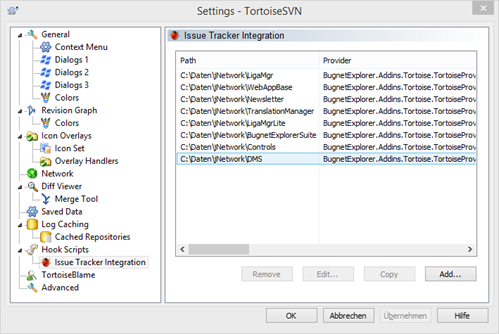 Click on "Add" to add the Project to TortoiseSVN. Each project has to be added separately.

Define the path where SVN Repository is saved.
Choose "Options" to set up Bugnet Explorer Suite 2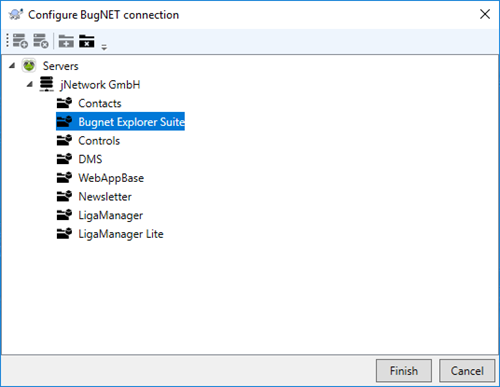 Choose the respective Project. You can as well add a new project here.
Close the dialogue with "Finish"

The wizard saves the set up settings in the field "Parameters"
Close the set up with "OK"
 At Check-In you now have a button "Choose Tickets" in the top right corner of the Check-In window. You can select the concerned tickets.